Facilitation
As a facilitator, I support change processes for individuals and groups
through the following services:
Visual Coaching
In this innovative coaching format, we combine professional coaching with visualisation. In a 1-2 hour session, your process will be visualised to see next steps and uncover blind spots. Through the visualisation you automatically take a bird's eye view of your concern and see the bigger picture.
Together we work out clear questions, create inspiring visions and derive next steps to realize them. The end result serves as a model and reminds you of your endeavours!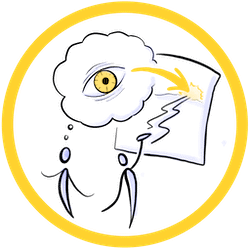 Moderation
As a passionate moderator, I accompany your event and enable lively dialogues. Through my many years of experience in the "Art of Hosting" I combine focused moderation  with participatory group methods. This combination creates an inspiring atmosphere that enables innovation and brings about lasting change.
Moderations can be booked physically and virtually and supported by process-oriented visualisations.
Miro & Process-Design
As a process designer, I help you to plan and implement participatory processes. Together we determine the most important elements, process steps and results of your events and design a strategic process. Whether it's a conference, workshop or meeting, participatory process design makes your event effective and visible in the long term!
Through collaborative tools such as Miro and Graphic Facilitation, the process is visualised and made accessible to the participants. Check out the images below for an example: