Coaching
As a facilitator, I support change processes for individuals and groups
through the following services:
Visual Coaching
Unleash the Power of your visualised Vision
In this innovative coaching format, we merge professional coaching with visualisation. During a 1-2 hour session and longer coaching-journeys, we visualise your process to help you realize your personal vision. Through the visualisation, you naturally gain a bird's-eye view of your objectives, enabling you to see the broader context.
Together, we define clear objectives, craft inspiring visions, and derive actionable next steps to bring them to fruition. The image we create serves as your guiding compass, reminding you of your aspirations.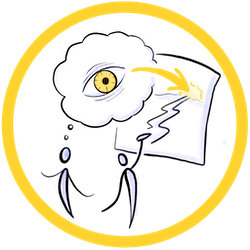 Process Facilitation
Support Emergent Dialogues and Effective Processses
As a passionate moderator, I guide your event and facilitate vibrant dialogues. With my extensive experience in "Art of Hosting," I blend focused conversation moderation with participatory group methods. This combination ensures an inspiring atmosphere that fosters innovation and drives sustainable change.
Facilitation can be booked both physically and virtually and can be complemented with process-oriented visualizations.
Organisational Development
Shift your Team and Organisation to a new Level
As an organizational developer, I assist in transforming your company into a thriving and future-ready entity. With my deep understanding of organizational dynamics and a proven track record, I guide you and your team on a journey toward greater effectiveness and humanity.
Through strategic interventions, team-building, and cultural alignment, I create a roadmap for success. My collaborative approach ensures that your team is empowered to drive meaningful change. Together, we unleash the full potential of your organization.